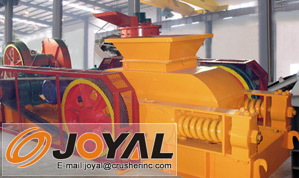 The roller crusher has widely application in the industries of mining, building materials, chemical industry, metallurgy, etc. The roller crusher can do secondary and fine crushing of materials with middle hardness or middle minus hardness, such as mineral, rocks, coke, coal, slag, scoria, and fire-proof material, etc.
Features
1. low energy consumption;
2. adjustable space between rollers of the crusher, thus improving the capacity;
3. the movable and fixed rollers are interconnected by the coupling, thus obviating the frequent replacement of the belts.
The capacity above is tested as per medium hard limestone.