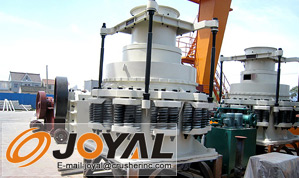 The JOYAL Spring Cone Crusher is widely used for secondary and fine crushing in the fields of mining, chemical industry, building materials, metallurgies and so on. The Cone Crusher can crush materials with Moh's scale in middle and high hardness such as ironstone, copper ore, limestone, quartz, granite, rock and so on. The standard type (PYB) is applied to secondary crushing; the medium type (PYZ) and the short-head (PYD) are applied to fine crushing.
Features
1. High capacity and superior quality;
2. Long working life of quick-wear parts, and low investment;
3. Dilute petrol stations for continuous lubrication to reduce downtime and maintenance time.
The capacity above is tested as per medium hard limestone.